If you're new to the home buying process, learning the ins and outs of what a mortgage is and how it works can seem a bit intimidating. When it comes time to start making offers, you want to make sure you know what you're getting yourself into. This is why working with a mortgage lender you trust is an important step in the home buying journey. But how do you know what kinds of questions to ask your mortgage lender to ensure they have your best interest in mind?
To make sure you and your lender are on the same page and you understand all there is to know about a mortgage, we've compiled a list of essential questions to help the process run smoothly. Read on for 20 questions to help get started on your journey to homeownership, or skip to our printables to help you through the process.
1. What Is a Mortgage?
First things first, you need to understand what a mortgage is. Since this is probably your first time buying a home, you might not have a full grasp on a mortgage, especially if you're used to renting. Having a mortgage is a whole different ball game that you need to be prepared for. So, what is a mortgage?
A mortgage is simply a loan used to purchase or refinance a home. Homebuyers use mortgages as a way to buy homes without having to pay the full amount upfront. When getting a mortgage, you sign an agreement with your mortgage lender in which you agree to pay back the money you borrowed over the life of the loan.
2. How Does a Mortgage Work?
Now that you know what a mortgage is, you need to understand how a mortgage works. A lender should go over this with you, especially if you're a first-time homebuyer. A mortgage consists of two components: the principal balance and interest.
The principal balance is the total loan amount you borrow to pay for the home. Interest is what the mortgage lender charges you for borrowing the money.
Borrowers typically pay their mortgage through monthly payments, which includes both the loan balance and interest. When you make a payment each month, a portion of it will go towards paying off the mortgage balance, and the rest will go towards paying off the interest. You will be responsible for making these payments until the end of your loan term.
3. What Types of Loans Are Available To Me?
There are many different types of mortgage loans available to borrowers, all of which have different requirements. Discovering which option is best for you depends on your financial standing, how much you're able to afford, how long you plan on staying in your home, and many other factors.
Here are some of the most common mortgage loans available:
Conventional Fixed-Rate Mortgages
Adjustable-Rate Mortgages
FHA loans
VA loans
USDA loan
If you have lower credit and can't afford a high down payment, your best option would be an FHA loan. FHA loans offer a low-downpayment of 3.5 percent of the home's value.
When discussing loan options with your lender, make sure you are honest about your current situation so they can understand what loan will work for you. Lenders are there to help, so never be afraid to ask questions until you have a solid understanding of the process.
4. How Do I Qualify for a Loan?
Depending on which loan you get, the qualifications will vary. When it comes to buying a home for the first time, an FHA loan is historically a reliable option.
Compared to other home loans, FHA loans require a low down payment of 3.5 percent, and their credit requirements are usually more lenient. An FHA loan is a government-backed home loan that helps first-time homebuyers.
When qualifying for an FHA loan, a minimum score of 580 is required, but borrowers with scores as low as 500 can sometimes be eligible. For most other home loans, a credit score of 620 is required.
Many other factors can contribute to you qualifying for a loan outside of your credit score. Typically mortgage lenders will look at your employment history, income and any other assets.
Depending on which loan you choose, your lender will be able to present you with all of the necessary qualifications needed to move forward with the loan.

5. What Is the Process for Getting Pre-Qualified?
There are two types of processes you should be aware of: pre-qualified and pre-approved. Many buyers get confused about what these two terms mean, so it's important to know the difference to avoid any mix-ups. The prequalification process happens in the beginning stages of your home buying journey and is a starting point in determining your housing affordability.
Lenders will typically check your credit score, ask about your current debts and verify your income to determine how much money you would be able to borrow. This is the perfect time to be honest with lenders about your current finances and debts, so they can help determine what kind of loan options would be best for you. This process is relatively fast and often done online.
6. What Is the Process for Getting Pre-Approved?
On the other hand, getting pre-approved is a process towards the end of your home buying journey. The best time to get pre-approved is before you're ready to put an offer in on the house.
During the preapproval process, a lender will run a full credit report, look at your employment history and income, and any other relevant information needed. Be prepared to provide documentation like bank statements, W-2s and pay stubs.
During this process, you will fill out a mortgage application, and the lender will verify all of the information you provide to confirm your ability to pay for the loan. If you're approved, the lender will send you an approval letter confirming your approval of the loan amount. This process is more formal than the prequalification process and could take up to 10 days.
7. How Much Can I Afford?
Going through the prequalification process is a great way to determine how much house you can afford. When getting prequalified, you will often receive the maximum amount you can afford.
With this in mind, you need to consider all of your personal expenses and costs associated with purchasing the home. It's important to factor these expenses into your budget to better understand how much you can afford on a month to month basis.
Our affordability calculator can help you determine how much you can afford and what your estimated monthly payment would be.
8. How Much Do I Need for a Down Payment?
A mistake many first-time homebuyers make is thinking they need a 20 percent down payment to purchase a home. While lenders love to see that high of a down payment, that amount isn't required for most loans.
The minimum down payment required for an FHA loan is 3.5 percent, as long as the buyer's credit score is above 580. If their credit score is below that, they may be required to put a larger down payment, closer to 10 percent.
Besides what is required, you'll want to factor in other costs, such as closing costs. This is why getting pre-qualified by a lender at the beginning of your journey is important to determine precisely how much money you need to put aside to qualify for the best possible loan.
These considerations will change from borrower to borrower depending on the type of loan and the borrower's situation.


9. What Will My Interest Be?
Asking your mortgage lender what your interest rate will be is one of the most important questions to bring up. Remember, your interest is what your mortgage lender charges you for borrowing the money.
Your interest rate depends on the type of loan you get and other factors such as your credit, your home location, how much money you put down and the loan term.
If you get an adjustable-rate mortgage, it's important to ask how often the interest rate will be adjusted. This will help you determine how often you should expect a change in your interest rate and monthly payment.
Aside from the interest rate, be sure to ask your lender what the annual percentage rate (APR) for the loan will be. APR factors in the interest rate plus any fees the lender charges for processing the loan.
This is why the APR is higher than the interest rate. Knowing the APR will help you compare FHA loan rates from different lenders, helping you decide who to move forward with.
10. Will I Need To Pay Closing Costs?
Closing costs include additional fees associated with buying a home, such as origination fees, appraisal fees, attorney fees, and mortgage points, just to name a few. When speaking to mortgage lenders, they should be able to give you a Loan Estimate. Typically the closing costs account for 2 to 5 percent of the purchase price — that is, the total remaining balance on the loan after the down payment.
In some cases, you can get the seller to cover some, or all, of the closing costs, but don't be afraid to shop around from lender to lender to save on these costs. Lenders should give you a Closing Disclosure, which will provide details and amounts of all of the fees associated with your loan. Once you get the Closing Disclosure, make sure to compare it to the original Loan Estimate to make sure there weren't any other fees tacked on to the loan that you didn't know about.
11. What Will My Monthly Payment Be?
As mentioned above, your monthly payment will include the principal amount and interest. Your monthly payment is determined by those two aspects, plus the length of your loan term. You'll also want to ask your lender about an escrow account, which is an account used to pay for insurance and property taxes on your home.
If you have an escrow account, your monthly mortgage payment will go towards the principal balance, interest on the loan, homeowners insurance and property taxes. If applicable, homeowners association fees (HOA) are included in your monthly payment.
Your lender will explain all of these factors and divide the monthly payments accordingly. If you're ever unsure what goes into your monthly mortgage payment, the acronym PITIA should help refresh your memory. It stands for principal, interest, taxes, insurance, and association fees.



12. What Other Costs Do I Need To Budget For?
During your home buying process, the last thing you want is to be presented with unexpected fees or costs that you hadn't already included in your budget. This is a crucial question to ask your lender. As mentioned above, you'll want to ask your lender for a Closing Disclosure that details all of the costs associated with the loan.
It may be smart to ask your lender about prepayment penalties. After you begin paying off your mortgage and happen to have the means to pay it off early, it could save you a lot of money on interest, but there's a catch.
Some lenders don't allow this or may charge a prepayment penalty. Prepayment penalties are a lender's way of charging you for the money you would have been paying them if you had continued your monthly payments. This is a smart question to ask ahead of time should you decide to pay off your mortgage early in the future.
13. How Long Will It Take To Process My Loan?
Determining how long it will take to process a loan can be tricky since it's a case by case basis. It took an average of 54 days to close a loan in October of 2020. Ask your lender to give you an estimate on how long they think it will take to process the loan and if you're on track to get it funded in that amount of time. If any issues could potentially push the time back, your lender should communicate that with you.
Additional Questions To Ask Your Mortgage Lender
How do I know I am receiving the best possible rate?
Do you handle the underwriting process?
How often will you be communicating with me while my loan is being processed?
What service fees will I need to pay when processing my loan?
What happens if you receive a low appraisal and will this affect my timeline?
Do I need to prepare anything before closing?
Will you end up selling my loan?
Knowing what questions to ask mortgage lenders can help ease some of the home buying process's stress.
That's why connecting with a reputable lender is key to making your journey smooth. To make the house hunting and home buying process even easier, we created a downloadable house hunting binder that will help guide you through the entire process from start to finish.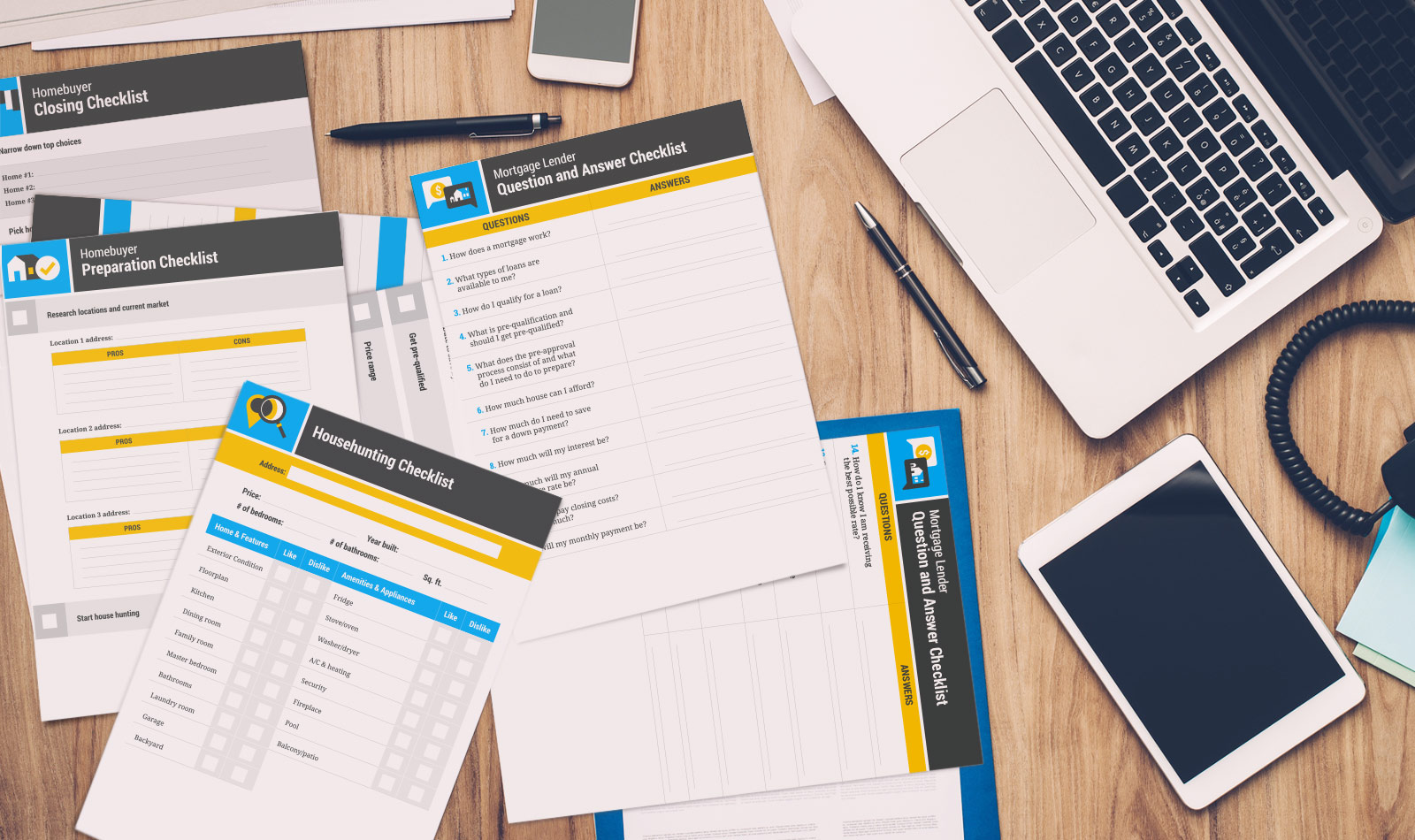 To get connected with a mortgage lender you can trust, check your eligibility, and let us help you determine if an FHA loan is right for you.