The idea of living for less is becoming increasingly appealing to people who want to stretch their money even further. The median listing price for single-family homes, condominiums, townhomes, and co-ops in December of 2020 was $340,000, up 13.4 percent compared to last year, according to Realtor.com.[1]

A significant price increase is a great sign for sellers but a potential roadblock for some first-time homebuyers lacking abundant funds for a down payment. FHA loans are popular among first-time homebuyers because they only require a 3.5% minimum down payment. Their credit score requirements aren't as strict, either. Younger homebuyers often favor this program because it offers a cheaper alternative to a conventional loan. FHA loans can be used to buy manufactured homes, modular homes, single-family homes and condominiums.
Manufactured homes provide an alternative to buying a single-family suburban home or condominium and offer a relatively affordable path to homeownership.
According to the Manufactured Housing Institute, an estimated 22 million people live in manufactured housing. Ninety percent of those people are satisfied with their homes.[2]

In this article, we'll take a closer look at the FHA manufactured home loan requirements, as well as what it takes to obtain one.
Table of Contents
What Is an FHA Manufactured Home Loan?
FHA Manufactured homes are built in factories and adhere to construction and safety standards set by the U.S. Department of Housing and Urban Development, or HUD.
Basic Requirements for FHA Manufactured Loan
Manufactured homes must meet specific property condition requirements to be eligible for purchase with an FHA loan, including:
The home must have been built after June 15, 1976. Mobile homes built before HUD standards were enacted are not eligible for government-backed loans.
The living area must be at least 400 square feet.
The home must have the approved HUD seal visible on the exterior.
The home site must have access to water and sewer facilities.
The site must have all-weather road access.
The home must be the primary residence.
The home must be permanently affixed to the land according to local building guidelines.
The towing hitch and any running gear must be removed.
How to Finance an FHA Manufactured Home
The Department of Housing and Urban Development (HUD) offers loan programs for manufactured homes through the Federal Housing Administration loan program, including Title I and Title II loans.
FHA Title I loans are fixed-rate loans made for home improvements, repairs, and buying manufactured homes even if the buyer does not own or plan to buy the land the home occupies. They do come with loan amount and term limits as outlined by HUD below:
FHA Title I Maximum Loan Amounts
Manufactured Home Loan for Lot Only - $23,226
Manufactured Home Loan for Home Only - $69,678
Combination Loan (Manufactured Home Loan for Home & Lot) - $92,904
FHA Title I Maximum Loan Term
Manufactured Home Loan for Lot Only – 15 years
Manufactured Home Loan for Single-section (single wide) Home & Lot – 20 years
Manufactured Home Loan for Multi-section (double or triple wide) Home & Lot – 25 years
FHA Title II loans are fixed-rate loans made for financing manufactured homes and land sold together, above the Title I loan amount and term limits. Title II loans fall under FHA's national conforming loan limits for Single-Family homes. The maximum loan amount is currently $356,362 and adjusts annually. Loan term options for Title II loans are 15 and 30 years.
Manufactured, Mobile & Modular Homes: What's the Difference?

Manufactured homes were once called and referred to as mobile homes. Some people may still refer to manufactured homes as mobile even if the home isn't technically mobile.
Mobile homes are factory-built homes constructed before June 15, 1976. These homes are considered obsolete and ineligible for FHA financing due to HUD policy changes in 1976.
Manufactured homes are factory-built homes constructed after June 15, 1976, and come with a distinct HUD-certified tag. These homes are transported to the site in one piece and anchored to a permanent foundation. The home price and loan amount needed will dictate which type of FHA loan, Title I or Title II, to apply for.
Modular homes are factory-built homes transported in sections and constructed on a permanent foundation site. Modular homes are built to comply with local building codes rather than those set by the HUD Code for Manufactured Homes.
Manufactured Homes Are Becoming Increasingly Popular
Newly released data from the U.S. Census Bureau shows that the number of manufactured homes being shipped in the U.S is increasing every year.[3]

Their findings suggest that more and more homeowners are deciding to go the non-traditional route for housing.

Here's the most recent snapshot of the Current Manufactured Housing Survey from October of last year showing the number of manufactured homes shipped in the United States.
Average Sales Price
$89,400
Total Shipped (thousands of units)
9,000
Sold and Placed for Residential Use
6,100
Intended Sale for Residential Use
2,900
For Non-Residential of Other Use
Z
In the last 5 years, the number of new manufactured homes being shipped grew 33.9%.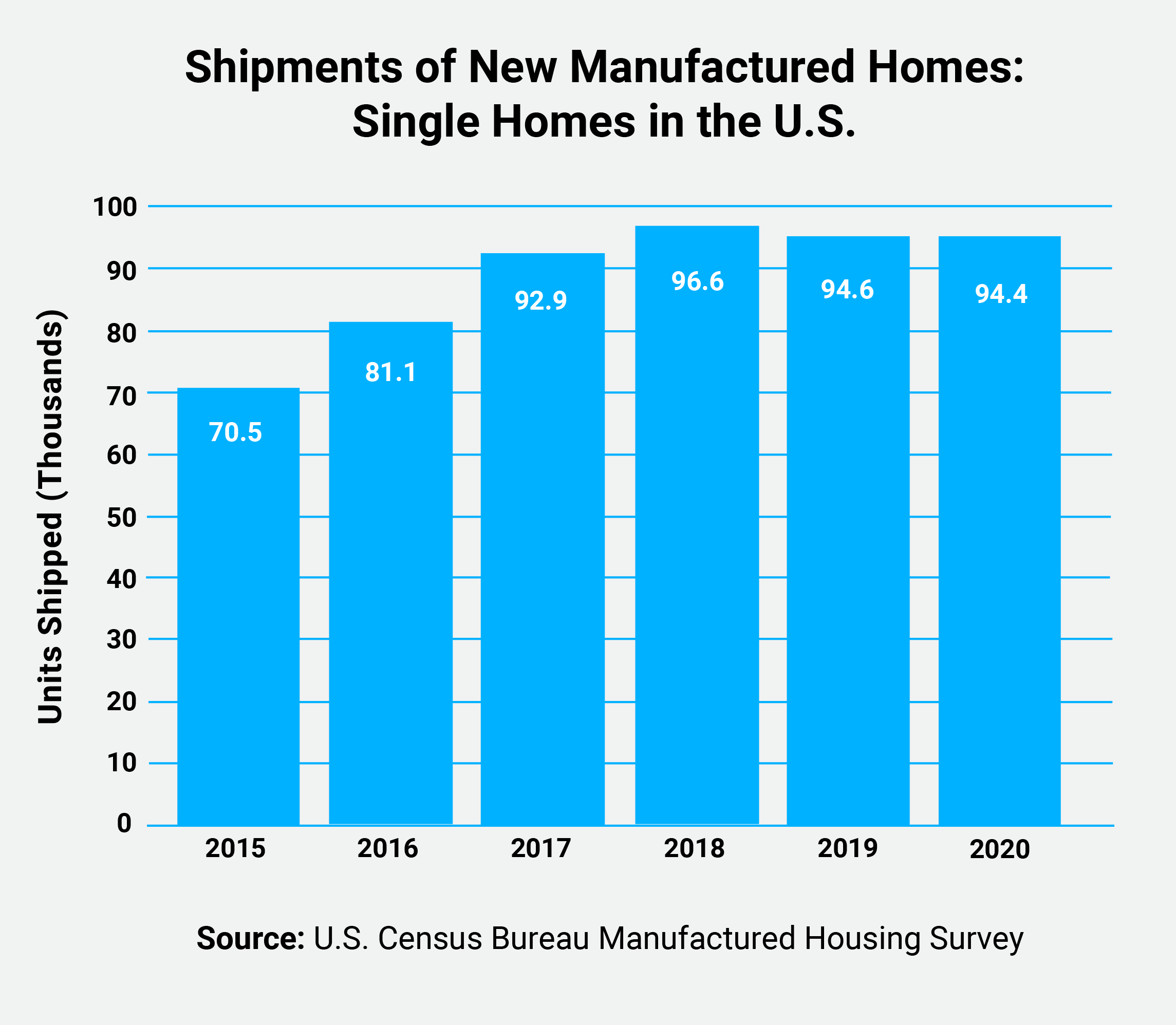 Here's a breakdown of the average sale price of manufactured homes being sold over the last five years. The average sale price of a manufactured home last year was a little over $87,000. If you were to compare this to the cost of buying a traditional home, that's roughly $250,000 in savings.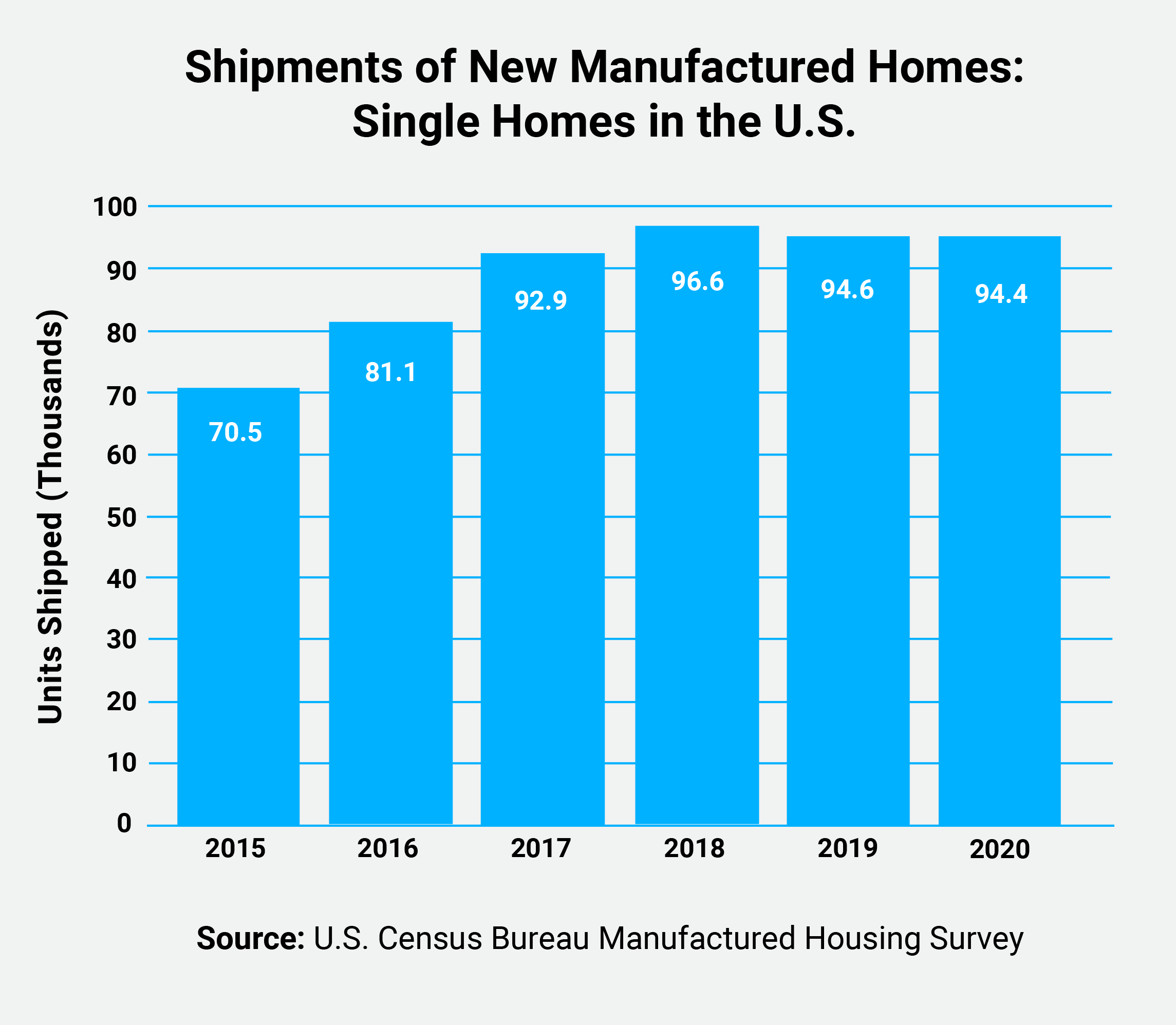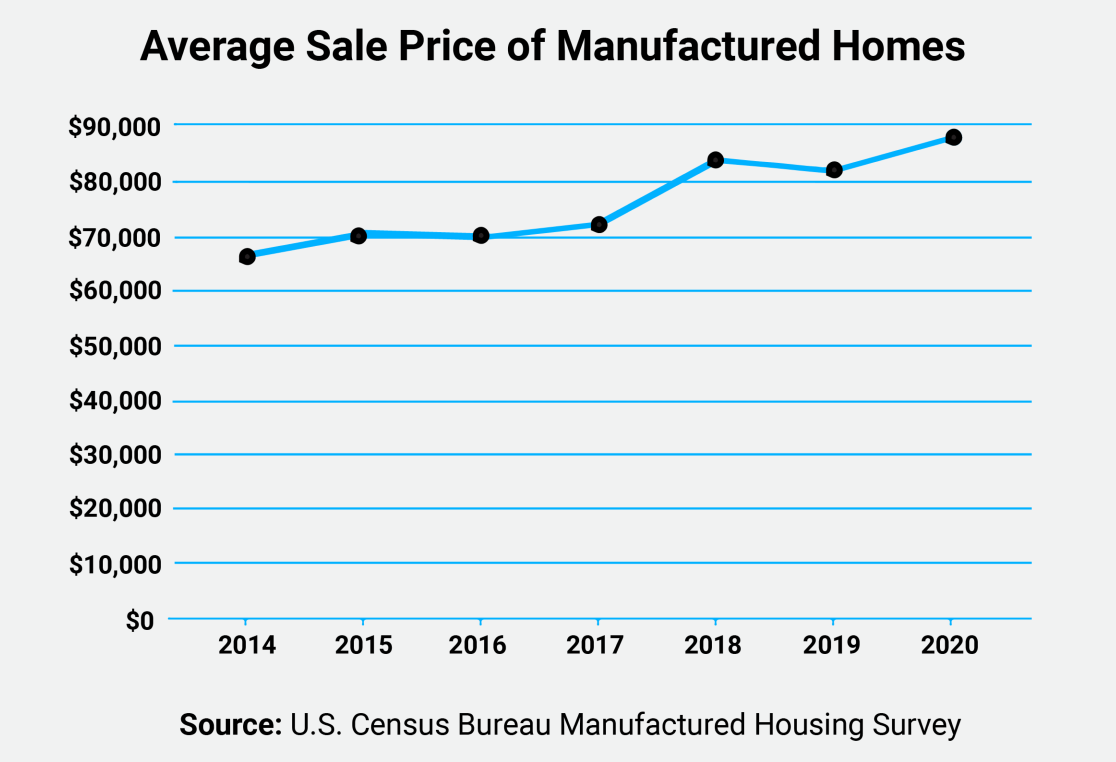 Final Thoughts

The number of new manufactured homes in the U.S. is continuously growing, so there's no denying the increased demand for efficient, affordable housing. When shopping for a home, you'll more than likely be very budget-conscious.
Some of the advantages to buying a manufactured home instead of a traditional stick-built house include:
The price is significantly lower.
Adding customizations can be a lot cheaper.
The turn-around time on construction is quicker.
If you still have questions, or you're unsure if purchasing a manufactured home is the best option for you, don't hesitate to speak with an FHA-approved lender to discuss your options.
Sources